ATREA s.r.o. www.atrea.com
KUBUS / kitchen extractor hoods
Kitchen hoods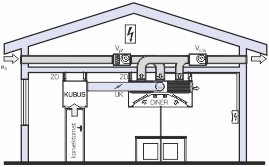 A simple hood suitable for appliances such as dishwashers and convection ovens for all kitchen types and sizes. The operation of such appliances does not result in the particles of fat being contained in exhaust air. Therefore it is not necessary to install fat filters. We recommend combining with the DiNER-T extractor hood and SVF fan components.
This section tells you all you need to know about designing a proper system and things to avoid. Intended primarily for catering facility operators.
Why ATREA?
ATREA s.r.o. manufactures main system components that include DUPLEX ventilation units with heat recovery, ventilation and air-conditioning ceilings, extractor hoods, ventilation units for hot-air heating of houses and flats and controls for these systems.
What we offer?
Proprietary products, consultancy services, the compilation of studies or project design documentation. For more details, feel free to contact us.
© ATREA s. r. o. 1998-2023