Selection software
ATREA s.r.o. launches selection software for designing DUPLEX compact ventilation units. The software is currently available as freeware (free to share).
Current version of the "DUPLEX units" software
Current version of the DUPLEX unit Selection software
Version
9.00.016
Issue date
14.2.2021
Description of changes and additions
readme_dup_en.rtf
Function is limited till
30.9.2021
Download (version full)
adu_09_00_016_en.exe (EXE 130 MB)
Add-on for Revit
Our selection software supports export of the selected equipment in IFC format, including all technical information (weight, air flow rate, pressure, efficiency, power input etc.) with active connectors for connecting all ducts and media. If both Autodesk Revit and our Selection software are installed on the computer, IFC import option is automatically added also with direct two-way connection between Selection software and Revit. If you import IFC file to Revit without Selection software installed, it's required to install Revit add-on that provides seamless import. Please download such add-on from the link below.
Revit Add-on
Supported versions
2017-2022
Download
aduforrevit_1.0.0.exe (EXE 12.8 MB)
Please send us your experiences, opinions and report any errors.
License agreement
The "DUPLEX units" software is provided subject to this License Agreement. By downloading, using or copying this software you acknowledge that you have read and understood this Licence Agreement and will comply with the conditions contained therein.
General description of the software
The software supports and facilitates the comprehensive design of ATREA's products:
versatile ventilation units DUPLEX Flexi, DUPLEX Multi, DUPLEX

MultiEco, DUPLEX Roto a DUPLEX Basic with heat recovery including accessories
indoor ventilation units DUPLEX Inter
special units for blocks of flats DUPLEX Silent
small-size ventilation units DUPLEX EC5 / ECV5 and DUPLEX Easy
RV…series stand-alone heat recovery exchangers
electric and hot water coils
double-zone heating and cooling DUPLEX R5 series units, this part also includes air flow rate calculations based on the building's heat loss
DUPLEX RDH5 series swimming pool units, this part includes air flow rate calculations based on evaporation
Design procedure
Units are designed in the following steps which correspond to the standard process used by planners when designing AHU's:
Description of the steps
Entering basic identification data about the planner, customer or project name.
Selecting a suitable unit in the design guide
The design guide will recommend a unit based on the required air flow rate or location (indoor, outdoor).

Selecting a climatic zone
Based on the location the software will fill out temperature and outdoor air humidity data.


Design
Selecting the position and configuration of the unit and the position, size and shape of outlets, and whether the unit will be supplied assembled or in parts.


Operating point
a) Required supply and exhaust air flow rate.
b) External static pressure necessary for air transport.
c) Fitting by-pass, circulation and shut-off dampers in the supply or exhaust duct.
d) Exact specification of the selected filter class.
e) Exact specification of exhaust air temperature and humidity.
f) Adjustment of supply air temperature by adding an air heater or cooler.
Software outputs
Print and export of technical specifications
The following items can be printed or exported in PDF (Acrobat), OneNote or XPS Document Writer:
Technical description of the unit
Dimensional drawing of the unit
Requirements for the building contractor regarding the site of installation of the unit
A HVAC system diagram showing the temperature and relative humidity of the air to be transported
A wiring diagram of the unit
H-x diagram
Parameters according to ErP (Ecodesign)
These items can also be printed as a group as part of the technical specifications.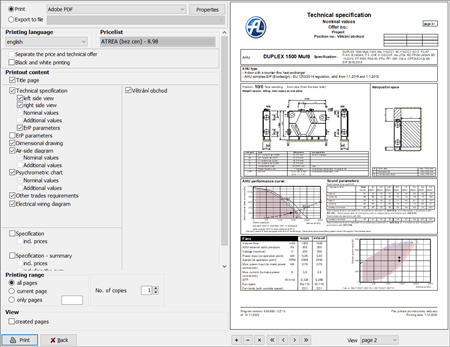 Export in DXF
The design of the unit can be printed directly from the software in DXF (AutoCAD), with an option to select levels and 2D / 3D views.

Export in BIM (Building Information Modelling)
The selection software exports selected unit in IFC including all technical data (weight, flow rates, pressure, efficiency, power input etc.) with active connectors for connecting all pipes and utility supplies. If Autodesk Revit is available, it automatically includes an IFC file import option and direct two-way connection between Revit and the selection software.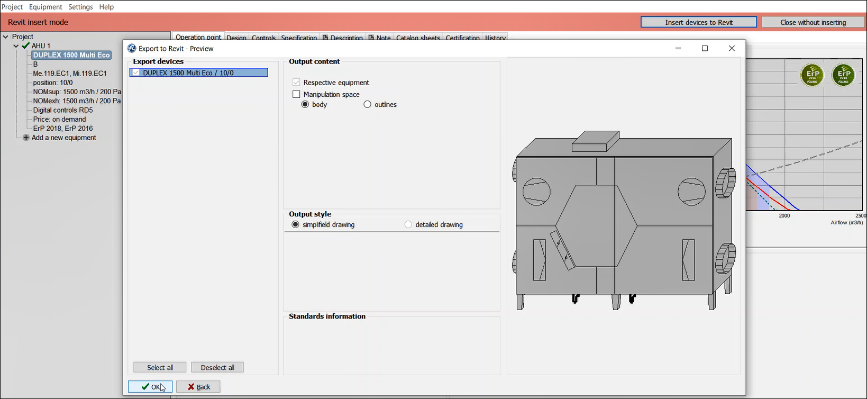 Sending the project by email
This guide makes it easy to generate an email with a file containing the design, technical specifications and data exported in formats used by subsequent contractors.

Catalog sheets
The software offers data sheets, marketing brochures and links to instructional videos for DUPLEX units for download.
Selection software guide
The guide will make the first steps easy. Download it in pdf or as a PowerPoint presentation.