ATREA s.r.o. www.atrea.com
SMART box system
SMART box system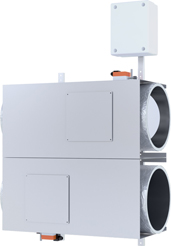 SMART box system by ATREA is the only solution on the market, linking together a central heat recovery AHU, up to 63 individually controllable decentralized VAV boxes and a cutting-edge control system including sophisticated controllers and a service interface for each flat or office.

SMART box Technical sheet

SMART box Marketing catalogue

Selection software
ATREA also provides a cheaper version EASY box system – a complete solution with lower technical features but better price level.

EASY box Technical sheet
DUPLEX Flexi have very important competitive advantages concerning their construction and business philosophy that was coordinated with premium European wholesalers.
read all
ATREA s.r.o. offers a DUPLEX compact unit selection software for use by the design professionals.
The program is presently spread as a freeware ...
read all
We are happy to let you know that ATREA has achieved another success to confirm we are a true leader in ventilation and heat recovery as we claim in our slogan.
read all
© ATREA s. r. o. 1998-2022