ATREA s.r.o. www.atrea.com
DUPLEX 1400–15100 Basic-N
Versatile compact HVAC units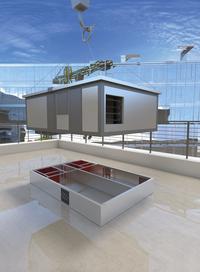 Excellent brand new generation of our customized rooftop compact HVAC units. These units can be 100 % project tailored and have our professional new cross-flow heat exchanger with heat recovery efficiency up to 75 %. DUPLEX Basic units can optionally be equipped with built-in accessories – water or electric heating, water-based or direct cooling, shut-off dampers, by-passes and recirculation etc. Special feature of this new generation is a great compactness with maximum focus on minimum height and ATREA innovative solution for heat loss elimination.
The units are designed exlusively for applications which are not within the scope of Commission Regulation (EC) 1253/2014.

Marketing video ATREA Base-frame

Summary marketing catalogue DUPLEX Basic

Technical catalogue DUPLEX 1400–15100 Basic-N

Selection software
Great compactness – up to 60 % space reduction; Easy instalation, no secondary costs; Own production of various heat recovery cores with efficiency from 50 to 92 % ...
read all
ATREA s.r.o. offers a DUPLEX compact unit selection software for use by the design professionals.
The program is presently spread as a freeware ...
read all
Case study of the usage of ATREA units in a multi-purpose building. You can easily hover your mouse cursor
over the multi-purpose building and click on your selection
© ATREA s. r. o. 1998-2022