ATREA s.r.o. www.atrea.com
DUPLEX 1400–10100 Basic-V
Versatile compact HVAC units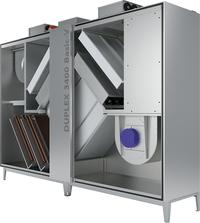 Brand new generation of our customized HVAC air-handling units with cross-flow heat recovery exchanger and all outlets directed upwards. The philosophy of these units is the same like with Basic line but the construction is developed in unique design with the spigots facing upward that recure promlems of connecting air ducts which can save space. Like with Basic inside version 100 % customization, up to 75 % heat recovery efficiency, integrated heating and cooling and excellent compactness are a matter of course.
The units are designed exlusively for applications which are not within the scope of Commission Regulation (EC) 1253/2014.

Summary marketing catalogue DUPLEX Basic

Technical catalogue DUPLEX 1400–10100 Basic-V

Selection software
DUPLEX Flexi have very important competitive advantages concerning their construction and business philosophy that was coordinated with premium European wholesalers.
read all
ATREA s.r.o. offers a DUPLEX compact unit selection software for use by the design professionals.
The program is presently spread as a freeware ...
read all
We are happy to let you know that ATREA has achieved another success to confirm we are a true leader in ventilation and heat recovery as we claim in our slogan.
read all
© ATREA s. r. o. 1998-2022